Mo Willems Sugar Cookies for Zachary's 2nd Birthday
28
Zachary turned two earlier this month (I know, it's insane). We had a small birthday party for him last weekend and I went with a Mo Willems theme. If you don't know Mo Willems, he's the author of a lot of kids' books, including Don't Let the Pigeon Drive the Bus and a host of "Elephant and Piggie" books. Zachary just adores his books, so I thought this would  be a fun theme. (The invite image is not showing up the best here, but you get the idea. It's modeled after the book I am Invited to a Party! and the bottom says "P.S. Don't let the pigeon come.")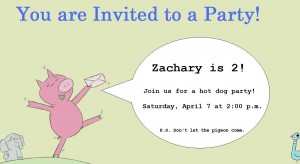 The Pigeon's favorite food is hot dogs, so we decided to have a hot dog party! We had:
fruit salsa with cinnamon chips
guacamole with tortilla chips
barbecue chicken and caramelized onion quesadillas since my kid's obsessed with quesadillas
a few different kinds of hot dogs/sausages with various toppings and condiments (relish, onions, cheese sauce, bbq sauce, etc. etc.)
burgers
Bacon/cheese potatoes in the crockpot
Mexican cherry tomato salad
cookies and cake
I didn't want to spend much time in the kitchen, and with a little prep the day before, I really didn't. I didn't go terribly crazy with the theme or anything. This is pretty much the extent of my craftiness, which is a sign I made to go by the hot dogs from pages in the book.Yep, LOOK OUT Pinterest.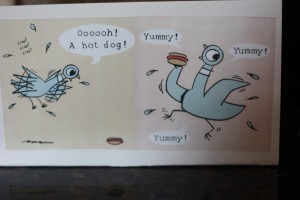 I decided to leave the cake-making to the pros this time because I really wanted some of the Mo Willems characters on the cake, and as we already know, I am one of the world's worst cupcake and cake decorators. Gerald the elephant and Piggie went on the top of the cake.
Now, the cookies were a bit of a challenge, mostly because I am really, truly, terribly inartistic. A couple months ago, I tried making Mad Men sugar cookies and they were a failure on the most epic of levels. My falling men looked like ninjas, my Lucky Strike logo looked like Zachary made it, and my lettering looked that of a 4 year old learning to write his name for the first time.
Needless to say, I was a bit worried about making anything that wasn't, like, a filled star. Let alone characters – that I wanted people to actually be able to recognize. I drew inspiration from this pic.
This time I decided to print a few characters out and then outline them, rather than free-handing. I actually went way overboard doing this because there was really no reason to draw any detailing, since they would get covered by flooding, anyway. I guess I just got overzealous.
Anyway, this definitely helped my artistic plight and though these cookies most certainly would not perfect, I would consider them a success especially after the Mad Men fiasco. I have a really, very unsteady hand and also cannot draw a straight line even while using a ruler, so I'm never going to be a perfect sugar cookie decorator. I still had did all the detailing freehand (trunks and mouths and whatnot, so I left myself plenty of room for error. 😉 Thankfully, a lot of Mo Willems characters are crudely drawn, so it works out a little better for me.
I did a couple Gerald designs (these were probably my favorite and turned out the best), a couple Piggie, the Pigeon, the bus, and Cat the Cat.
Originally I had planned on flooding the entire cookie white, and then essentially doing a double-flood where the character would be. But, I didn't get a chance to start these as early as I wanted and only had a day to do them, so there was no chance both floods would dry before I could detail. Although some of the piping did get covered with the floods, it wasn't too bad, so I'd probably do this again next time since I'm pretty lazy. 🙂 Plus, I'm not the world's biggest royal icing fan, so doing it this way makes the icing layer thinner.
My timeline was making the dough Thursday night and refrigerating it, then rolling/cutting/baking it Friday morning. As soon as they cooled, I started doing the outlining, then when that dried, the flooding. I let them sit out until Zachary went to bed, and then did the detailing around 8:30 or 9:00. Not the most ideal, but it worked.
I mentioned in a previous post that I liked both Ashlee's and Annie's sugar cookie recipes, so I decided to combine them. I used Ashlee's basic recipe, but increased the almond extract dramatically (one of my favorite things about Annie's cookies) and eliminated the leavening altogether (also like Annie's) so that they'd hold their shape a bit better and didn't have as-raised tops. I think this is the recipe I will use going forward, because it was my favorite combination of flavor/texture/shape. I also added a little almond extract to the royal icing (what can I say? I can't get enough.) Besides the fact that I could probably drink almond extract, the other nice thing about using it in the icing is that it's clear so there is no chance of discoloring the icing, like vanilla extract would (though honestly, I've never had a huge issue with that).
Note Tom's t-shirt, which is quite appropriate for our theme. Note also the fact that I did not have time to do my hair before the party (my inlaws are always early, and I am used to Greek people being at least an hour late, I guess) and probably should not have allowed myself to be photographed. Finally (and most importantly) note how freaking adorable our kid is.
He really, really hates candles, so we had to do the heavy lifting there. 😉
Sugar Cookies
Adapted from Veggie by Season with inspiration from Annie's Eats
3/4 cup butter (12 Tbsp.)
3/4 cup granulated sugar
1/4 cup powdered sugar
2 eggs
1/2 tsp. vanilla
1.25 tsp. almond extract
2.5 cups all purpose flour
1/2 tsp. salt
Using a stand or hand mixer on medium speed, cream the butter and the sugars together for about 5 minutes. Add the eggs, one at a time, beating until just incorporated, and then add the vanilla and almond extracts until combined. Turn the mixer to low, and add the salt, followed by about 3/4 cup flour. Mix for about 15 seconds, and then add the remaining flour in 2 batches, beating for 15 seconds between, until flour is incorporated.
Wrap the dough in plastic wrap and refrigerate for at least one hour.
Preheat the oven to 375F and line baking sheets with parchment paper or a silicone baking sheet.
Dust your work surface with flour or powdered sugar (or a combination), and then roll the chilled dough to about 1/4″ thickness. Cut cookies using a floured cookie cutter, and then place on prepared baking sheets (re-roll any scraps to make more cookies. Or just bake scraps – you know, for taste testing purposes. :))
Bake for approximately 7-8 minutes (will vary based on size and thickness of cookie). The cookies won't really brown, so be sure you're not overbaking them.
Allow to cool completely before frosting.
Royal Icing
Adapted from Good Things Catered (defunct blog) via Annie's Eats
4 cups powdered sugar, sifted
2 Tbsp. meringue powder
5 Tbsp. water
splash of almond or vanilla extract (optional)
Combine the sugar, meringue powder and water in the bowl of a stand mixer fitted with the paddle attachment.  Mix on low speed until the sheen has disappeared and the icing has a matte appearance, about 7-10 minutes.  Add the extract in for the last half minute or so.
Transfer the contents of the mixing bowl to an air-tight container (or several containers, if you are using different colors).  At this point, the icing will still be too stiff to use for decorating.  Add water a very small amount at a time and stir by hand until fully incorporated.  Continue until the icing has reached a consistency appropriate for piping.  Use icing gels to dye the icing, if desired (just dip the toothpick in the gel and then add it to the icing; continue until you get the color  you want.
Using a pastry bag, pipe around the edges of each cookie.  Let stand so the icing will set, about an  hour.  As you're working, be sure to keep a tight lid on any icing you're not using.
Once all the cookies have been edged, transfer some of the remaining icing to a separate air-tight container.  Thin out by incorporating a small amount of water at a time, until the icing drips off the spoon easily when lifted and then smooths in with that still in the bowl.  If you go too far and the icing is too thin, add more sifted powdered sugar to thicken it again.  Once the icing has reached the desired consistency, transfer it to a squeeze bottle (or a plastic bag with a hole in one corner), and flood the area surrounded by the piping on each cookie.  If it does not completely spread to the edges, use a toothpick to help it along.  Allow to set, preferably for several hours.
Use the remaining thicker icing for piping decoration as desired.
Notes: The amount above should be fine if you do not plan on doing several different colors and a lot of detail work. I made 1.5 batches and had a little extra.
Be sure to check out Annie's royal icing tutorial!
Mo Willems Sugar Cookies for Zachary's 2nd Birthday