Happy 5 Years to Moi! And your Eat to the Beat Roundup!
21
Today marks the 5th (err, I guess the beginning of the 6th) year of this blog. When I started my blog back in the day on Vox, I never imagined I'd have more than maybe 3 people reading it – and that included my husband and myself. I still remember the day I got my first comment from a stranger, and I was so excited!
Over the years, readership has grown and I've made so many blogging friends. I'm thankful for each and every one of you, for giving me the motivation to keep blogging. It's been so fun, and I hope to get 5 more years out of this gig. 🙂 I plan on doing a (delayed) blogiversary giveaway soon, so be sure to check back for that.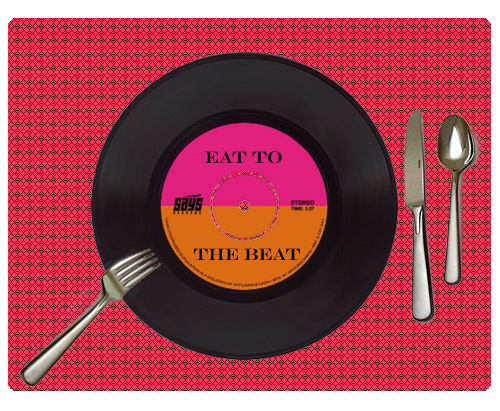 Eat to the Beat was always one of my favorite parts of this blog, and it was a lot of fun to bring it back. Thanks so much for everyone who participated this time around. As always, it was so fun to read your entries, and of course see your gorgeous food! It amazes me that after doing this 5 times now, there are SO few duplicates. We're talking less than 5. So awesome!
If you are viewing this from the homepage, you'll have to click below to visit the round-up (I don't intend on making you click out of your Reader for posts, since I find that annoying. But, there are quite a few pics, so I didn't want the front page to slow down, and I didn't want people who didn't care about EttB – *gasp* – to have to scroll a bunch before getting to the recipes. So forgive me just this once, okay?)
Eat to the Beat Roundup
My arch nemesis in the kitchen is waffles. Don't ask me why, but I can never manage to make them correctly. Ammie from Adventures in My Kitchen does not seem to have this problem at all. She used the Train song "Breakfast in Bed" and came up with these delicious waffles with caramelized bananas. Just like getting breakfast in bed, these waffles are definitely a treat!
Allison doesn't have a blog, but she's a sport and played anyway! Allison made these awesome looking orange marmalade crepes, as an homage to the song "Lady Marmalade" by Patti Labelle, of course. A French crepe recipe is very fitting for a song about the French Quarter in New Orleans, don't you think? It was her first time making crepes and she did a great job! (If you want the recipe, please comment or email me).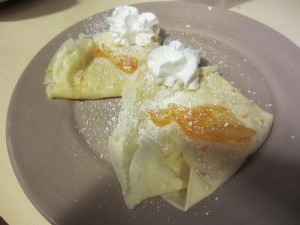 Branny of Branny Boils Over fame contributed this tortilla espanola, inspired by the great song "Holiday in Spain" by the Counting Crows. This is one of those things I've always wanted to make, but never have. I love the use of sweet potatoes, too!
Cate at Cate's World Kitchen is a girl after my own heart, both with her inclusion of beets (yum) and relating her dish to the Michael Jackson song "Beat it." I am and have been an MJ fan for years (PROOF). This golden beet and orange salad looks fabulous, and is colorful and healthy to boot.
Kayla from Central Cooking chose to make monkey (wrench) bread, based on the song "Monkey Wrench" by the Foo Fighters. I really love that song and I actually remember the first time I saw the video and was thought, "THAT's Dave Grohl?!" (it was after he cut his hair). ANYWAY. I also love monkey bread, so this is a great entry all around!
Krissy, the Dainty Chef, took her inspiration from the Dave Matthews Band Song "You & Me." Krissy is married and constantly hears "When are you having kids?" (I know/knew that question well), but she is perfectly happy enjoying life as a couple right now. She shares a recipe for pumpkin spice cupcakes with brown sugar frosting for two – yep, that's right, the recipe yields two delicious cupcakes, perfect for you and a loved one (or, you know, you can eat them both yourself).
Roshni, the blogger  behind The Doux Project makes this delicious banana cream pie, in honor of the Jack Johnson song "Banana Pancakes." Roshni is not a big pancake fan, but she loves pie. Loving the idea of the shortbread crust in this. Yum.
Tricia at I Sing in the Kitchen has an entire blog devoted to marrying food and music! For Eat to the Beat, we're featuring these adorable orange almond cupcakes. Tricia is a huge John Wesley Harding fan and has in the past made a dish for him on her blog. This time, she makes these cupcakes for his kids.
Melissa is a first time EttB contributor, from I Was Born To Cook. She chose the song "Mambo Italiano," which talks about going back to Napoli – where Melissa's mom is from, and where many of their relatives still reside. Like the song, Melissa provides us with a dish that is dramatic and a showstopper – Chicken Parmigiana. Definitely one of my favorite dishes, and I want to dig right in!
After like 3 years, I finally got the song "Single Ladies" out of my head, but now it's back again with Jey from The Jey of Cooking's submission. Legend (aka Gourmet magazine) has it that when a girl makes this roast chicken, her boyfriend will prose to her, so it's aptly called "Engagement Chicken." Love the song, love the chicken!
Heather and Melissa are the writers and cooks behind Kids in the Sink. Their entry ties perfectly into their blog name, because not only would kids go crazy for this Cap'n Crunch-topped Sweet Potato Casserole, the song they chose to tie into it is from Veggie Tales! The song in particular is "The Pirates Who Don't Do Anything" which not only mentions mashed potatoes, but Cap'n Crunch (aka, a MAJOR food weakness of mine, especially the berry variety) too.
Suzanne from Kokocooks has a really fabulous blog (and an oh so adorable kid!). She used a Barenaked Ladies song to create her dish, "If I Had a Million Dollars." Remember the part about still eating Kraft Dinner (AKA Kraft mac and cheese)? Suzanne made something way better than Kraft, that is spicy and cheesy – Moroccan -Spiced Macaroni and Cheese!
Lindsay runs Life and Kitchen, and is contributing these awesome oven-fried onion rings. She bases her entry on the song "Chicken Fried" by Zac Brown Band, but since she's not a fan of chicken, she decided to make fried onion rings instead. Fine by me. I'm a huge fried chicken fan, but I can never resist an onion ring, or 12.
LeAndra from Love & Flour submitted a recipe that is actually from this event's namesake—Blondie (they have an album called Eat to the Beat). LeAndra made coffee blondies, specifically tied to the song "Rapture" which talks about eating many things, including cars and guitars. LeAndra shaped her blondies using these as inspiration, and they sure are cute!
Val is the blogger behind More Than Burnt Toast, one of the very first blogs I ever followed. She offers up hoagies and grinders, and I know you'are already singing the Adam Sandler song in your head, aren't you? Ahh, "Lunch Lady Land." Hoagies are submarine sandwiches and grinders are toasted sandwiches (I never knew they were toasted, I just thought all three words were interchangeable based on your region!) These turkey roast dip sandwiches with melted gruyere are definitely a BIG step up from cafeteria food, though.
One of my favorite bloggers, nay, people, Kate from Paved with Good Intentions is a perpetual EttB contributer. She was having some trouble coming up with an entry this time around, but the song "Jar of Hearts" by Christina Perri saved the day. Kate made some delicious looking heart-shaped butter cookies with a meringue topping, a la Fanny Farmer
Nikki, who runs Pennies on a Platter definitely used a guilty pleasure song of mine for Eat to the Beat – *NSync's "Dirty Pop." YES.  Nikki decided that caramel popcorn looked like dirty popcorn, hence the connection. I LOVE caramel corn and really hope to try my hand at making it someday.
My friend Josie, who blogs at Pink Parsley, made this absolutely amazing looking glazed raspberry-lemon  bundt cake, in honor of the band The Cranberries. The Cranberries were actually the first concert I went to! Actually, that's kind of a lie. They were the first concert I chose to go to. My mom dragged me to a Neil Diamond concert a couple years prior. 🙂 I'm so excited about this recipe, and looking forward to trying it soon!
Like me, Robyn at Planet Byn chose an old (ugh, I hate saying that this CD is "old") hip hop song – from Jay-Z's album Blueprint (which is 10 years old, damn!). There's a line from the song "Girls Girls Girls" that goes "Arroz con pollo, french fries and crepes /An appetite for destruction but I scrape the plate." So what did Robyn make but arroz con pollo, of course. Looks great!
Tara, my blogging buddy from Smells Like  Home decided to go with a southern theme, rather than choose a specific song. Tara let us in on a secret—that she loves country music, and she likes shaking her booty to it in the kitchen. The only thing more southern than country music is biscuits and gravy. And these look amazing, amiright?
Katie, who blogs at So Tasty So Yummy not only used a recipe she found on my blog, but she even  used a song from one of my most favorite bands – REM. I actually considered this very song as well as "Orange Crush." Katie shares one of my favorite foods ever, loukoumades, which are Greek donuts topped with a honey syrup. They go perfectly with REM's song "Me in Honey."
Jessica runs the blog Sunny Side Up in San Diego, and she chose to make a recipe I've actually had on my to-try list for ages. Now, I can move this island pork tenderloin further up my list, because it looks so great! Jessica tied her tenderloin into the song "Islands" by The xx (great choice!)
As soon as I saw the title of Jaida's dish, I knew exactly what song she had chosen. On her blog Sweet Beginnings, Jaida is featuring a Chinese chicken salad, pulled from the song "One Week" by Barenaked Ladies. Surely we all remember the line "chickety china, the Chinese chicken," right?
And then, of course, there is my submission, based on Snoop Dogg's classic song, Gin and Juice.  These orange cupcakes spiked with a little gin will make sure you are laaaaaaaaid back, no doubt.
Happy 5 Years to Moi! And your Eat to the Beat Roundup!