Eat to the Beat #4: The Round-Up
09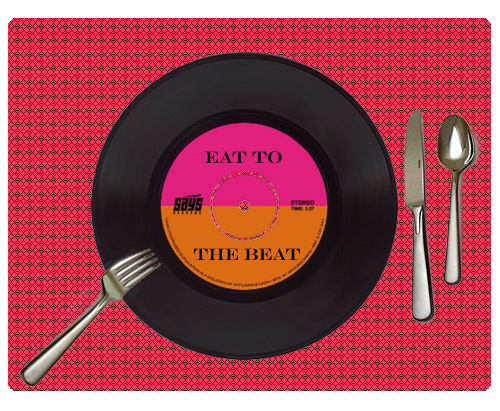 Here it is, folks, your last Eat to the Beat roundup…and it's a good one, again!
Thanks so much to everyone who participated this time, or any other time, and made this event a success! I have loved reading your creative entries and, more importantly, looking at your delicious food.  For now, I've planned that this is the last installment of Eat to the Beat. But, twist my arm and you never know…maybe I'll bring it back again later for an encore presentation. 🙂
See all the submissions after the jump.
I'm not sure if it's legal to make someone pick a favorite ice cream, but if it were, cherry garcia might be mine. Well, it would be pretty close to Haagen Dazs vanilla swiss almond.  Annie, who runs Annie's Eats (and, FYI, has the cutest son ever) whips up a batch of her very own Cherry Garcia ice cream and shares a funny story about a Jerry Garcia look-a-like at her local bar.  Blog posts like these confirm that I definitely *need* an ice cream maker.
On a fantastic inauguration day (the best I've experienced, that's for sure!) Kelsey from Apple a Day decided to make this festive and patriotic Inauguration Day Cake, inspired by the song "Hail to the Chief."  What goes better with a new president than a fantastic cake? Umm…nothing. I am very confident that both things can unify very diverse groups. 🙂
Beantown Baker Jen made these easy M&M treats (which, by the way, are like crack to me. Do not let me near these things as I will eat a whole batch) and was singing the M&M song the whole time she was making them.  Personally, I have never heard that song before but the idea of being buried in M&Ms when I die doesn't sound too bad… 🙂
Kayla from Central Cooking shares both her recipe for chili and a story about how she got into the band the Red Hot Chili Peppers (inspiration for the dish, of course!).  I was late to the RHCP party myself, only really starting to like them after Californication. Anyway, it's a good thing we are actually eating chili for dinner ourselves, tonight, or I would really be craving it even more!
Erin, who always makes delicious Dinner and Dessert, apparently makes great side dishes, too. Erin brings us this fabulous Mexican rice, set to the tune of "Mexico" by James Taylor. I don't know about you, but Mexico sounds pretty great right now. Hook me up with this rice, and a margarita (ok, maybe 2) and I'm ready to hop on a plane.
Cherries seem to be quite popular this time around on EttB. Kara, who runs Kara's Kitchen Creations, channels everyone's favorite kind of band–a hair band, of course, to make this cherry-almond mousse pie as homage to Warrant' song "Cherry Pie."  I absolutely love the combination of cherries and nuts, so I would love a slice of this delicious mousse pie!
Awesome songs like "Cherry Pie" transcend ALL countries, of course, and Cat, better known as Little Miss Cupcake, proves this with her entry all the way from Paris, France.  Cat also used the Warrant song as inspiration and made these cherry pie  brownie cupcakes.  Chocolate? Brownies? Cherries? All in one package with some whipped cream frosting? I'm going to need at least 4.
One of my favorite things about this blogging event is how diverse everyone's entries are. Sometimes we have pop music, sometimes humorous songs, and in this case, a musical – The Sound of Music, to be exact. That's what inspired Lindsey at Noodle Nights & Muffin Mornings to make this beautiful and super tasty Linzertorte. Lindsey has visited the von Trapp resort and what always keeps her coming back is the food, especially this sugary, decadent treat. I don't know about you but linzer cookies make it onto a list of "my favorite things" so I know I would love the torte version!
One of my favorite food bloggers is Kate, who runs Paved with Good Intentions (she bribes me by participating in EttB every time). Kate had some leftover lamb in the fridge (you're probably understanding more and more why she's a favorite of mine) and used the Weezer song "Dope Nose" to make this amazingly delicious sandwich. It has lamb, shepherd's cheese and lemony yogurt sauce. In other words, it's pretty much the perfect sandwich.
To know me is to know I love carbs. So, what could be better than this grilled red pepper and potatoe pie  that Singing Horse from Peaceable Kingdom brings to Eat to the Beat? Crust and potatoes? Mmm. This lovely pie was inspired by the funny song "Potato" by Cheryl Wheeler.  Potatoes are one of my favorite foods and they are so comforting in the winter. I definitely think they deserve their own song!
Stefany at Proceed with Caution shares my love of nutella. Who doesn't? (Don't answer that.) She is always whipping up fabulous things with it, and this cinnamon nutella ice cream with toffee chips (oh yeah, you read that correctly) is no exception. I've already said it once this round up, and I'll say it again. I NEED an ice cream maker. This ice cream was inspired by the lovely Sarah McLachlan song "Ice Cream."
And finally, my entry for the event was my very first pot roast–an old fashioned, American meal from a Greek who always wanted to be an "American Girl." Every time I hear that Tom Petty song, it makes me think of my not-so-American childhood.
Eat to the Beat #4: The Round-Up