Eat to the Beat: The Roundup
0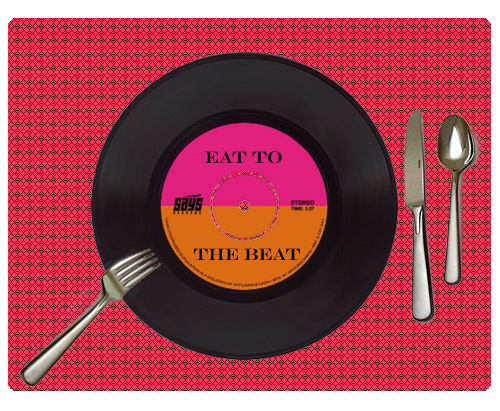 Wow. Can I just say how amazing (not to mention creative) food bloggers are? I was hesitant to host this event because I wasn't sure if it would appeal to enough people. Sure, *I* am a huge music buff, but I didn't realize how many other people were, too. I told my husband I would be happy with 7 or 8 entries to the event since it was my first time hosting one. Well, imagine my surprise when I tallied up my emails and had FIFTY-FOUR! And if that wasn't cool enough, there were practically no overlaps with food/music. There were so many wonderful, unique submissions to this event. I had entries from some of my favorite bloggers as well as some blogs I hadn't known about until this event. So now I have tons of new, great, blogs to keep tabs on and add to my Google Reader! Thank you all SO much for participating!
This begs the question of whether or not this should be a recurring event. What do you think? I have had a few people ask if I plan to keep this going, and I'm not sure. Originally, I planned on it being a one-time thing but after the great response and the emails asking if I plan to host again, I'm considering another Eat to the Beat. I think monthly might be too frequent, but maybe seasonally? Please tell me what you think in the form of a comment or an email.
And now, let's hit play and see all of your creative (and no doubt delicious) dishes. I wasn't sure in which order to present the entries, so I just went alphabetically, according to your blog title. If for some reason I missed you, or a link is wrong or something, please let me know. This took a while so by the end I may have been a little sloppy 😉
Aliy from AAMP'ED Up Cooking lives in Boston now, but being from Indiana, she ate a lot of fresh catfish growing up. Lyle Lovette's "Up in Indiana" brings back memories of life at home, so Aliy set out to make some catfish for this event. She wasn't able to find good catfish so she modified her idea to use salmon. This yummy looking ciabatta bread salmon is almost too pretty to eat! But, you should definitely eat it to experience the wonderful fruit flavors, including the lemon, lime and pineapple. Yum!
Amber, who lives in Indiana, makes one of her Delectable Delights with this explosive turtle cheesecake. Holy yum. I think I went into a euphoric shock upon seeing this. Her turtle cheesecake is based on the song "So Happy Together" by…the Turtles of course! Plus, cream cheese, caramel, chocolate and pecans really are so happy together, aren't they? And I think they would be even happier together in my tummy.
You will definitely have "Georgia on [your] Mind" for days after looking at Annie's gorgeous peach pound cake. Annie, another Hoosier, runs Annie's Eats. She makes this perfect treat with bits of peaches enveloped in moist, fluffy pound cake. In my opionion (which is obviously very important), you cannot go wrong with a pound cake. Thank you, Mr. Charles for popularizing the song so Annie could share this amazing looking pound cake with us.
Amy Sue, my fellow Vox neighbor in Wyoming, makes these delicious and comforting Italian mini meatloaves. Her inspiration for this dish is none other than the artist Meatloaf, and Amy listened to one of her favorite tracks, "Two Out of Three Ain't Bad" while crafting these cheesy bites of goodness.
Kelsey, gracious host of Apple a Day makes this really great looking banana cream pie with a pretzel crust. I love the combo of sweet and salty. Plus, I think I would love a pretzel crust on just about anything. Like a "Hollaback Girl" you will go B-A-N-A-N-A-S over this pie. Let me hear you say it!
Sathya, one half of the duo behind The Baker & the Curry Maker joins the event from Australia. She makes this beautiful and delicious looking blackcurrent nonbake cheesecake with a gingernut (gingersnap, to me) crust. Gingersnap crusts are my absolute favorite. Sathya's cheesecake creation goes along with the song "The Cheesecake Truck" by King Missle. I haven't heard that song before but if it's literal, I would love to be a passenger in said cheesecake truck.
Erika from Maine submits one of my favorite entries to this event, over at Bean's Bistro–evil little hell cakes (okay, they are chocolate chili cupcakes) based on the song "Hell" by The Squirrel Nut Zippers. And seriously, this song is going to be in my head for DAYS. Remember the part in the song where they sing "now the D and the A and the M and the N and the A and the T and the I-O-N?" Well, Erika did and she spelled it out on her cupcakes. I love it!
Delia, a Texan over at Because You Have to Eat, made these yummy Cheeseburgers in Paradise, based on the Jimmy Buffet song. She busts out the red meat for these burgers, instead of ground turkey, which I can definitely get behind. I love me some red meat, and cheese–and these have not one, but two kinds of cheese.
Wheeeeen the moon hits your eye, like a big pizza pie, that's amore! Everyone knows that great song, by Dean Martin, and Cara from Cara's Cravings used it as her inspiration to create this delicious looking pizza, which she made with a homemade crust! I really want to try that crust recipe. Not to mention the pizza. Eggplant, roasted yellow peppers, and big ol' dollops of goat cheese? Yes, please.
Sylwia, who is Polish but currently resides in Ireland, contributes two things for Eat to the Beat, related to two totally different songs. Thanks, Sylwia! On her blog Cudawianki (her nickname) in the Kitchen (Cudawianki Kuchenne), Sylwia makes these great looking fudge candies that are called "small cows" in Poland (I learn something new everyday!), an homage to the 50 Cent song "Candy Shop." Her second contribution was this seriously amazing sounding banana iced coffee, inspired by Damien Marley's song "One More Cup of Coffee." I think everyone would agree to one more cup of coffee if it looked that good!
Ally, who is always giving us a peek into her Culinary Infatuation, channels Widespread Panic and their song "Coconut" to make these delicious looking coconut blondies with toffee and chocolate. Make anything with toffee and I am in love already but toffee AND coconut? I'm totally in heaven. Too bad Ally lives in Georgia and can't just swing by to drop off a batch of these puppies.
Honestly, I think there are few things in this world that are tastier, simpler and more comforting than apple pie a la mode. I don't think it can get much better but Danielle from San Diego proves me wrong by adding some peanut butter dulce de leche to her individual no bake apple ice cream pies. She posts these cute little goodies on her site Dinner with Danielle, and she chose the Destiny's Child song aptly titled "Apple Pie a La Mode" to Eat to the Beat with.
Catherine, who hosts The Dish and lives in Arizona, makes these Simple Irresistible Banana and Butterscotch-Caramel Muffin Cakes. Whoa, that is one long title but each word is better than the one before it. Based on Robert Palmer's "Simply Irrestiable" (yes!), I definitely know I personally can't resist one of these muffin cakes. And, Catherine talks about the time she dressed up as a Robert Palmer girl and played air guitar. I mean, who that lived through that song hasn't done that?!
Giz and Psychgrad from Canada run Equal Opportunity Kitchen. Like Meatloaf the singer, it used to be that Psychgrad "would do anything for love but [wouldn't] do that." What's "that?" Well, eating meatloaf. Still, her mom Giz makes this lovely looking meatloaf. Okay so maybe Psychgrad isn't all that crazy about it, but I'll take a slice, Giz, especially since it's made with veal.
Susan the Food Blogga from sunny California, makes this ridiculously fresh and good looking kona kampachi with meyer lemon-thyme butter. Whoa whoa whoa. Butter with meyer lemon right in it? I would definitely buy that by the stick. As a child, Susan would drive her brothers nuts singing the song "Lemon Tree" by Peter, Paul & Mary but I bet they wouldn't be upset about it now since it inspired Susan to make this incredible looking dish.
Back in grad school, Mansi (who makes both Fun and Food) and her roommates would bake any time they were having a bad day. When they'd bake, they would sing "These are a Few of My Favorite Things." In view of those happy memories, Mansi makes a great looking batch of cranberry walnut scones that are healthy, to boot. Scones are definitely one of *my* favorite things!
Much like myself, Johanna (vegetarian heroine behind Green Gourmet Giraffe) is a big music buff who owns way too  many CDs, but was still surprised to see at how few songs/bands actually mentioned food. I definitely think we should start a petition for more food related songs! She ended up picking My Friend the Chocolate Cake, a local band in her hometown of Melbourne, Australia as inspiration to make this beautiful chocolate spice gingerbread. Le yum! And what a great band name, that is. Like Johanna says, isn't ever chocolate cake a friend? Definitely to me!
Paula from Alabama and of  Half Baked fame, whips up some beautiful banana-walnut pancakes. Paula was inspired by Jack Johnson's song "Banana Pancakes." I sure would love to wake up to these babies. The song is "meant to keep you from doing what you're supposed to do" but all I want to do now is scarf down some banana pancakes.
Clara from California and of I Heart Cuppycakes fame makes these absolutely beautiful Red Wine Chocolate Cupcakes. Yum. I am a self proclaimed wino (okay, and chocoholic), so these are right up my alley. What song goes with these cupcakes? "Red Red Wine," of course!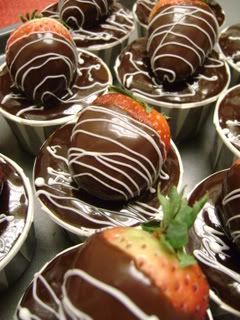 Joanna in the Kitchen presents these totally decadent but totally fresh-looking lemon parfaits. Mascarpone AND heavy cream? With a lot of lemon? I'll take two. Joanna envisions a huge lemon tree with lots of big and yellow lemons every time she years the song "Lemon Tree" by Fool's Garden, so she makes this mouth-watering lemony dessert to go with the song.
Julie, my friend from Chicago, doesn't have a blog but she participated in the event anyway. She makes these delicious looking John "Meyer" lemon gnocchi from Food & Wine. Such a creative title and, Julie says, when John Mayer talks about "crawling toward the pillowcase" in "Your Body is a Wonderland" she likes to think is talking about the lovely pillows that are potato-gnocchi goodness." Me, too, Julie. Me, too 🙂
Peter, who lives in Toronto, ON, Canada is one of my favorite bloggers who happens to live in one of my favorite places. The gourmet behind Kalofagas–Pursuit of Delicious Foods busts out some music from Squeeze, the great English new wave band. Peter is "Pulling Mussels (from a Shell)" to make this ridiculously good looking dish of Mussles and Clams Riganato. I gotta say, I am not the world's biggest fan of mussels, but I will gladly chow down on a plate of this.
Kayte from Maryland, resident cook in Kayte's Kitchen, makes this lovely Custard Pie based on the Led Zepplin track "Custard Pie." I have to say, I have never had a custard pie before and now I'm wondering why the hell not?! This looks and sounds delicious. I definitely need to make my own soon.
Danielle, the Kitten in the Kitchen over in Brazil, makes brioche de patatas (potato brioche) to answer the question Xuxa poses in their song, "Who Wants Bread?" (answer: me) I have never had a potato brioche but I love potatoes, and brioche is one of my favorite kinds of bread, so I would no doubt fall in love with this and eat the whole loaf. When I was little, I actually had a Xuxa cassette tape, so this really brought back some memories for me.
Another favorite blogger of mine, Ivy over at Kopiaste is from my motherland (okay maybe not, but she is from my mother's land ;), Greece. She shares with us a hilarious Thomas the Train song about "chicken in the air" to listen to while we dine on her lovely Chicken Espinosa. I don't know which ingredient I like the most here–the walnuts, the honey, the orange liqueur. Don't make me choose! I want it all, including that amazing looking rice pilaf.
Cakelaw from Australia, who shares with us her Laws of the Kitchen makes another citrus-flavored chicken with this fantastic looking marmalade chicken based on the Beatles' tune "Lucy in the Sky with Diamonds." You remember the line–tangerine trees and marmalade skies. Marmalade chicken sounds tasty enough but blood orange marmalade chicken? Mmm. This is one dish I definitely plan on making soon.
Everybody's favorite Leftover Queen, Jenn, always makes the most delicious, fresh food and this is no exception. She makes several small plates (mezes/anitpasti/tapas) to share with friends, including egg-lemon dolmas, labneh and Middle Eastern meatballs with orzo. Jenn is big into bellydancing, so it's no surprise she likes the food native to regions where bellydancing is popular. She ties her small plates into the song "Desert Rose" by Sting and Cheb Mami, who is a big star in Algeria and much of the "bellydancing music" world.
Melissa from Made by Melissa bakes something my husband could easily eat 6 of. Melissa says her peanut butter cup dessert is rich and good for sharing, but we don't share desserts in *this* household. Her song choice to go with this gorgeous looking peanut butter cup is "Build Me Up Buttercup" by the Foundations. Although I must say, when that song gets stuck in my head, it tends to be the Save Ferris version (if anyone knows what I'm talking about…).
And I just have to add that Melissa's husband even made his own contribution to the event–a cheeseburger in paradise. Thanks, Nate!
Robin of Made with Love makes something perfectly reflective of her blog title; not to mention a great take on the Eat to the Beat theme. Rather than pick one specific song, Robin talks about how most songs have a common word in them besides the word "love," and it's "heart." She gives a lot of examples like "Total Eclipse of the Heart" and "Unbreak my Heart." Robin takes heart healthy ingredients like salmon, oatmeal, red peppers and carrots and makes these great looking salmon cakes. In addition to being super delicious, these are super healthy so you can definitely "eat your heart out."
Melissa, who likes to share with us her Magic in the Kitchen in Virginia, takes a song from my second favorite Disney movie, Beauty & the Beast (my favorite is Little Mermaid, if you're wondering). Everyone remembers the scene where the dishes come to life and start singing "Be Our Guest," right? The song mentions many foods, but Melissa focused her attention on beef ragout. This one looks divine, with the thyme, burgandy and olives. I will gladly "tie a napkin 'round [my] neck" and dig right into this.
Danielle at Make No Little Meals from Rhode Island, makes one of my favorite kinds of cupcake–red velvet. Mmm. A take on Alana Myles's "Black Velvet," these red velvet cupcakes definitely have that "Southern style." If red velvet cupcakes weren't decadent enough with their usual cream cheese frosting, these babies are topped with a mascarpone frosting. Seriously, people. Stop it with the mascarpone…you are making me want to eat it by the tub!
Chris from Georgia who runs a favorite blog of mine, Mele Cotte, made me laugh with her entry of Shortbread Sandwich Cookies, based on the Cookie Monster's song "C is for Cookie" because my husband and I had been counting like The Count that same day. I guess we all had Sesame Street on the brain. I love shortbread and I love chocolate so put them together and yes, that "cookie is good enough for me!"
Geez, sometimes I wish I lived in Canada. Besides the fact that I love it there, there are so many great bloggers who would cook me dinner (I hope) and Bellini Valli from More than Burnt Toast would be one of the first stops on my dining circuit. She never ceases to impress me with her creative and delicious dishes, and this one for california rolls no exception. Valli says K.O.'s song "Crabbuckitt" is just one of those feel good songs that will have you snapping your fingers as you're eating this sushi. I wouldn't be snapping for too long, though, because you need those fingers to eat some california rolls!
Jessica from My Baking Heart is a native Texan who serves up this Tex-Mexy Frito Salad Annie, based on the song "Polk Salad Annie," performed by Elvis. I am more than happy to eat any kind of salad that has cheese, beans and sour cream in it! And I have a weakness for Fritos (doesn't everyone?!).
Lindsey contributes a dish that fits right into her blog's namesake, Noodle Nights and Muffin Mornings. She makes a really delicious looking apple cranberry walnut muffin. I just love the combination. Her muffin is based on Ella Fitzgerald's "The Muffin Man." I think the Muffin Man would be pretty proud of Lindsey for this super fluffy and no doubt tasty muffin.
Pancakes remind Victoria of Oooh! Cake of diners. Me too! Everyone's favorite pancakes come from their local diner, don't they? I bet when Lisa Loeb was "waiting for someone to take her order" in her song "Falling in Love" she was going to order pancakes. And if she could, I bet she'd order these delicious looking polenta pancakes Victoria made.
PaniniKathy from San Diego makes this really amazing looking club panini and it totally screams California to me. Run on over to Panini Happy to check out the recipe the turkey mango double-decker club panini and then go out and buy your ingredients because if you're like me, you are going to want to make this. This club panini is based on 50 Cent's "In Da Club," but this double-decker panini is no "shorty!"
Kate, yet another Californian, from Paved with Good Intentions is one of those people you just know you'd get along with if you met in person. Kate and I tend to share a wavelength (and I've mentioned on my blog before that in my dream once, we actually shared an apartment complex) and this time was no different. I was *thisclose* to making an apple tart with cherry cream, gleaned from The Beatles song "Savoy Truffle." Well, Kate decided to use that same song to make some delicious looking chocolate cake truffles with orange marmalade (the marmalade is another reference to a Beatles song–"Lucy in the Sky with Diamonds!")
Holly, the PheMOMenon in Utah, is a huge Simon & Garfunkle fan. And why not?! Their song "Scarborough Fair" talks about "parsley, sage, rosemary and thyme" so she makes a Scarborough pot roast with those very herbs. I absolutely love rosemary and thyme together for beef stews and roasts. This dish just looks so comforting. Give me a plate of this and a glass of wine and I am one happy girl.
Ruth at Phoenix Feathers, also from Indiana, bakes this gorgeous "Kiss from a Rose" (you know it, the Seal song!) cheesecake. Those pretty swirls are made from peppermint and the crust is made from Oreos. Sign me up for a piece of that! She chose to make this because the colors of the cheesecake go with the song's references to roses (red) and snow (white). Nice idea and beautiful cheesecake, Ruth.
Stefany, my fellow Chicagoan and blogger behind Proceed with Caution, makes not one, but two entries using Deanna Carter's song "Strawberry Wine." She uses wine of the sparkling sort to make these extremely cute strawberry champagne truffles, which use both Prosecco and strawberry liqueur. Again, I say, bring on the booze! And she does! Look at that great strawberry bellini we get to wash down the truffles.
Ruth, head cook over at Ruth's Kitchen Experiments in Ireland, makes some healthy but no doubt tasty brownies based on the Snow Patrol song "Chocolate" (a song I just love, by the way). These Cook Yourself Thin Brownies are packed with lots of nutritional goodness including swede (which, for your information, I had to look up, hehe), carrot and almonds. And now that I know what swede is (yellow turnip, if you are like me and didn't know), I plan to make something with them.
I just love these devil's food cupcakes Kristen from California over at Something Sweet posted. On top of that you can just tell these taste so good. Too good. Maybe even sinful? That's the approach Kristen took with the event, using the Dixie Chicks' song "Sin Wagon" as a connection to these sinfully good cupcakes. Hopefully I don't eat too many of these and tip over that Sin Wagon! 😛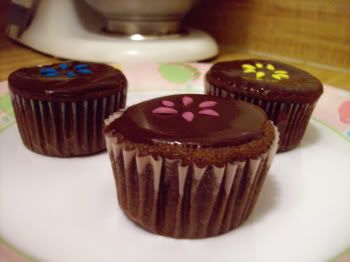 Peter G. is my favorite Australian Greek and he runs Souvlaki for the Soul. Just for the ladies, he makes this decadent, gorgeous looking hot chocolate based on Hot Chocolate's song "You Sexy Thing" (yup, another one of those songs you will be singing for days now that you've seen this 🙂 That hot chocolate surely is sexy, isn't it? Good chocolate, full fat milk, whipped cream, cocoa powder and a chocolate stirrer, to boot. I believe in miracles, so I expect I can drink a few of these with no adverse effect on my waistline.
Incredibly sweet blogger Núria from Barcelona, Spain always gives us some wonderful Spanish Recipes and this Clams Rice dish is yet another. On Sundays Núria was young, her family would  traditionally eat paella and then, with full bellies, have a movie session. One of her favorite movies was Seven Brides for Seven Brothers and she especially enjoyed the song during the barn sequence because of the music and the energy. This clams rice isn't exactly paella but it's close enough to spark memories for Núria!
Put the lime in the coconut and [eat] them both up…at least, that's what Steph of Steph's Kitchen decided to do when she made not one but two entries for this event based on the song "Put the Lime in the Coconut" by Harry Nilsson. First she makes great looking coconut shrimp and for dessert? Coconut lime cupcakes. The flavor combo is such a good one (obviously, that's why there is a whole song about it!).
Strawberry shortcake is one of my favorite things, so when I saw this beautiful strawberry shortcake on Susan's blog, Sticky, Gooey, Creamy, Chewy, it was love at first sight. Susan is from Florida, so I don't even want to tell you how NOT like that the strawberries in Chicago look right now. 🙂 Susan's song choice to go with this lovely strawberry shortcake is none other than The Beatles' "Strawberry Fields Forever."
Helen from South Carolina runs Tartelette, another favorite blog of mine. I'm sure you know her. I don't know of too many people who can take yogurt and fruit and make it look this incredible, but Helen is one of them. This Feel Good All Around Fruit Salad with Blood Orange Syrup is packed with fresh fruit, creamy Greek yogurt, coconut and blood orange syrup. I would gladly make this my breakfast every day. Her inspiration is a song I hadn't heard but have been bopping around to now for a couple days, "Salade de Fruits"  by Bourvil.
I've known for a while now that Lindsay (one half of Team Richey) and I have really similar taste in music (among other things). Turns out, we have a similar taste in shows (and food), too! Lindsey makes these mighty fine looking huevos rancheros based on a line from the RENT song "La Vie Boheme." To leather, to dildos [sorry, vox, do I need to make this "possibly inapproproate"?], to curry Vindaloo, to huevos rancheros and Maya Angelou!
Elizabeth, the Metro-Detroiter behind Ugg Smell Food makes one of my favorite kinds of ice cream–Rocky Road. Mmm. A typical 80's teenager, Elizabeth listened to Van Halen all the time, so this ice cream is based on their song "I'm Your Ice Cream Man." Unfortunately I do not yet have the means to make my own ice cream but as soon as I do, I am definitely trying this one out.
Do you ever wonder "Whatever Happened to Soy Bomb?" Well, the band the Eels do and so does Cindy, in Melbourne. Cindy is the vegetarian cook over at Where's the Beef? She shares with us these soy bombs, aka tofu balls. They look so cripsy and golden-fried and delicious. Even a carnivore like myself could definitely get behind these (and ask for more)!
Ashlee over at A Year in the Kitchen presents this beautiful (and, a bonus: light!) pineapple upside down cake. Ashlee resides in Indiana, but she uses the soundtrack from 50 First Dates as inspiration for an islandy-feeling dessert, since the movie takes place on Hawaii. I would love a slice (and I wouldn't even have to feel guilty about it).
I think there must be something in the blogosphere air, because I feel like I have been seeing stuffed cabbage everywhere lately, and it always looks so good. Pixie, who lives in the UK and runs You Say Tomahto, I Say Tomayto was going to submit a coconut cake to the event but it didn't turn out as she planned. Instead, she makes a really great looking stuffed cabbage with roasted vegetables and ties it into a song from the Andy Griffith Show, "Boil that Cabbage Down." I love the song connection almost as much as I love stuffed cabbage and roasted vegetables. 🙂 Put them in one dish and you definitely have a winner.
And, lastly, my contribution, pecan pies. My mini pecan pies (and my first venture both into pecan pie and crust making) are based on the Golden Smog song "Pecan Pie." It's one of my favorite kinds of pies and I am glad this event (and my love for Jeff Tweedy) gave me the opportunity I was looking for to make them.
Eat to the Beat: The Roundup