tools
I've come a long way in the kitchen with regards to cookware and gadgets. When I started cooking I had a knife block that was about $30 total, T-Fal hand-me-down all nonstick cookware, junky cutting boards, and about 300 nylon utensils (and yeah, I  have retained way too many of those, too).
Below is a list of items that I, personally, deem to be worth it. Or not. Of course everyone's tastes and needs will differ, but here are mine.
All pictures and links below are from Amazon. These items/brands are what I personally own and can vouch for, but of course you will want to shop around for what suits your needs most.
And remember…these are a cook's tools. Not necessarily a baker's. You're going to have to go elsewhere for that because I am no expert baker! Also remember, this is a work in progress. I'm sure there are things I use all the time that I've forgotten to list.
COOKWARE
Stainless Steel
I use AllClad stainless steel (with the exception of one piece) and I absolute adore it. Of course, feel free to shop around for the brand that fits your needs and budget best. I have heard great things about Emerilware, which is made from AllClad manufacturers but is quite a bit more affordable.
You will want to cook almost everything in stainless pots and pans. In addition to the scare factor of teflon coated pots and pans, there is really no use for them except for things like eggs and crepes, which will inevitably stick in stainless unless you use a ton of fat. Stainless steel provides even heat, a great sear, can go in the oven, deglazes beautifully, and can be washed in the dishwasher.
Be sure to heat the pan over medium or medium-low heat for a little bit before adding your fat (oil, butter, whatever). Then let the fat heat before adding your food. If you are searing or cooking meat, don't move it once you place it in the pan. The meat will let you know when it's ready to be flipped and will easily be lifted from the pan.
Must Have It: 3-Quart Stainless-Steel Saute Pan with Lid
This is my most used pan, by far. I might consider a 4 qt. if I had it all to do over again, but as of now, it's been perfect. This thing is perfect for searing large amounts of meat (and making a pan sauce after), making one pot dishes, and even serves as my dipping station for my melomakarona. If you buy one stainless steel pan, make this it.
Must Have It: 12″ Fry Pan/Skillet
This is definitely nice to have and I use mine quite a bit, specifically for searing/cooking meat for the two of us. Beyond 2-3 pieces, you will need to sear in batches. It doesn't do anything the saute pan won't do, but it's nice to have if you don't want to pull out the whole saute pan with lid, or you are cooking multiple items on the stovetop (as I often find myself doing).

Must Have It: 3-Quart Covered Casserole
I use this a LOT. This is great for smaller batches of soups and stews, boiling just a few ounces of pasta, making rice or other grains, and boiling/mashing potatoes for 2 or 3 people.
Must Have It: Roaster or Lasagna Pan
Oh, sure, I got some looks when I registered for a fancy schmancy lasagna pan. But hey, it's good for lasagna and it's good for roasting, too. Eventually I may get a larger roaster for when we host holidays, but for now the lasagna pan does double duty and I love it.
Think About It: Shallow Saucepan with Lid
I use this for pretty much all the grains (rice, bulgur, etc.) and it's also good for its namesake, which is, to make sauces. Get the size that works with how many you typically feed.
Think About It: Multi Cooker with Steamer and Pasta Baskets
You may or may not use this. If you already have a dutch oven or large stockpot, it may not be useful to you. But if you cook large batches of soups and pastas, or do a lot of steaming, it's great.
Think About It: 2 qt. covered sauce pan. Initially, I had this on the "skip it" list. It was a piece that came with a small set I got, and rarely used it. However, I use it a lot more now – for making custards for ice creams, making small batches of rice, and of course for sauces.
Skip It: 8″ skillet. The only thing I use mine for is toasting nuts, which is great and all, but it's not worth it (though thankfully this was the "free" piece in my set). You will get more use out of a nonstick pan the same size, good for making individual servings of eggs, and crepes.
Skip It: Double Boiler
If you have a pot and you have a stainless steel bowl, you have a double boiler. Don't waste your money.
Nonstick
As I mentioned, you don't need much in the way of nonstick cookware. One or two skillets in different sizes will be perfect for cooking eggs, or if you are trying to cut down on calories by using minimal fat in anything from sauteed chicken to hash browns. I use this 8″ skillet for my eggs in the morning.  I used to have the 8″ and 10″ set from Calphalon (I believe they sell them as "omelette pans") but didn't really like them. I make eggs or egg whites for myself every morning so it's safe to say the 8″ gets a whole lot of use in my kitchen.
12″ Nonstick Fry Pan
This is one of those things that will depend on how many you cook for. I definitely use this skillet, but not as much as the 8″ or 10″ because most times, it's just the two of us. Still, I'm glad I have it. It's great for making things like croquettes and fritters.



Other/Misc.
Must Have It: Dutch Oven
This is invaluable for soups, stews, and braising. I actually have a Target/Chefmate brand dutch oven that is no longer available. A few years back, Cook's Illustrated rated it the best dutch oven and I'd tend to agree. Mine is a 5 qt. which has been great, but a larger one certainly won't go to waste. Le Creuset contantly gets great reviews, but do your research and you will certainly be able to find one that is more affordable and performs well, if you don't want to spend a small fortune.
Must Have It: 12″ Cast Iron Skillet
Probably the best bang for your buck. This thing won't cost you more than 30 bucks and it will last you a lifetime (and probably a few lifetimes after that). Good for anything from cornbread to searing steaks. The more you use it, the better it performs. Personally, I'm obsessed with mine.
Must Have It: Stoneware Baking Dishes
For anything from casseroles to au gratin potatoes, pasta bakes to stuffed peppers.
Think About It: Baking Stone or Bar Pan
This is great for making breads (or just reheating them), pizzas, scones, etc. My one regret is that I wish I would have gotten a lipped one so I could even bake cakes and brownies in it, too. You will never get your pizza so crispy and your bread so crusty with a regular ol' pan, trust me.
Skip It: Grill Pan
It pains me to say this because I actually have one, but I really don't think you need one. Here's why: if it's a nonstick pan, on top of your stove, you really are not going to get a grill taste (though you will get nice grill marks). If you're trying to cook with minimal oil, you already have the nonstick pans I talked about above, right? If you opt for a cast iron grill pan (which is better, in my opinion), you don't really need it because you should already have a cast iron skillet. Did I mention this is also a pain in the ass to clean? Because it is. Now, it's not like I never use it, but I definitely do not get enough use out of it to recommend it to someone else. Sure, it gives nice grill marks and is nice for things like paninis and whatnot. But you don't  need it. Invest in a cast iron skillet instead. Or use your broiler, which is essentially an upside-down grill, anyway. I feel like I am in the minority here, so take my opinion with a grain of salt. But you are here for my opinion, right? :-)



UTENSILS/GADGETS



Knives
I have all Wusthof knives with the exception of one Henkels. But this means nothing to  you. Or to anyone. Because these brands all have various levels of quality and cost. And the most important thing is that you get a knife that will last, is forged, and most importantly–fits well in your hand. When you go to the store, don't just get rung up for a Wusthof knife because you heard the brand's great. Wield that sucker. Make sure you are comfortable using it. Do you prefer a 6″ or an 8″? Which feels better in your hand?
I cannot stress enough how much I recommend buying knives open stock. You really probably don't need 6 steak knives that don't match the rest of your flatware, or  half the knives in a block. The last time I  used the boning knife from that college knife block was when everything else was dirty and I was way too lazy to wash things. And what the point of two different sized serated knives is, I will never know.
Handwash your knives! Yes, they are dishwasher safe. But, the dishwasher will dull the blade, so just wash them yourself.
Must Have It: Chef's Knife
or a Santoku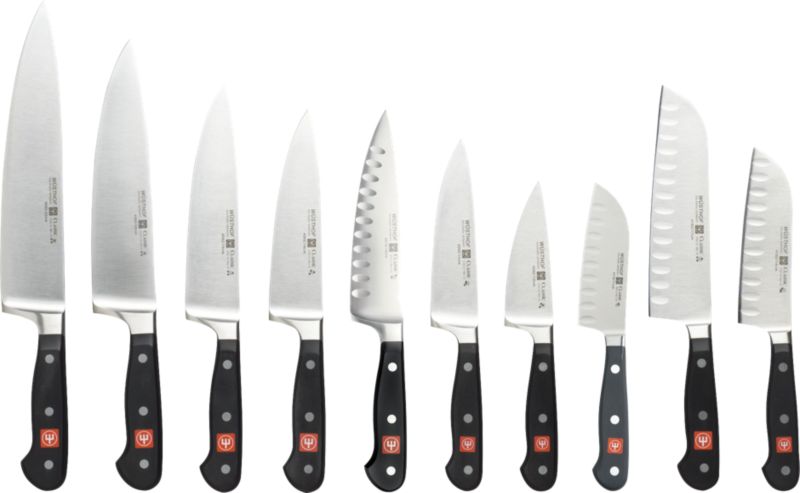 Chef's knives and santokus do the same thing, which is to say chop almost anything. Whether you go with chef's or santoku is a personal preference. I prefer chef's. I actually recently bought a second chef's knife, which has been great so I can keep one to chopping vegetables and the other raw meat, so I am not having to wash a knife in the midst of prepping.
Must Have It: Utility Knife

Though it's not a paring knife, you can use it to pare. And you can also use it to make pockets in your chicken or even slice small pieces of cooked meat. It's also good for slice and bake cookies.
Must Have It: Sharpening Steel

It is imperitive to get your knives professionally sharpened, say, twice a year. But you can use a sharpening steel every time you use your knife to keep the edge sharp.
Must Have It: Come-Apart Kitchen Shears

From opening a package to trimming skin off chicken thighs, you are going to use these things all the time. You'll want a pair that comes apart for easier cleaning.
Must Have It: Bread Knife

For…bread, of course!
Think About It: Paring Knife

I have one. I use it. I don't use it as much as the utility knife, but it is also good for slitting pockets into meat, etc. And for paring, of course. But I am lazy and use a vegetable peeler for everything I can.
Think About It: Mincer
or Mezzaluna

I don't use this THAT often, but when I do, I am reminded of how much I love it. It's perfect for chopping fresh herbs with ease.
Skip It: A Boning Knife
Are you a fishmonger? Then you probably don't need it.
Skip It: A Tomato Knife
If your chef's knife is properly sharpened, it will slice through a tomato with no problem.
Skip It: The Knife Block Set
You are probably never going to use half the knives in this, so why not just buy an empty block or in-drawer knife tray
(which is what I have) and spend money on good knives you know you will use, and that will last a long time.



Other Stuff

Must Have It: Locking Tongs

The number one most used utensil in my kitchen. You actually may want to buy two or three!
Must Have It: Microplane Grater/Zester
This is one of those things I never thought to register for and now use so often. It's perfect for grating cheese, nutmeg, fresh ginger, garlic, zesting citrus. It may seem like a unitasker when you first think about it, but that couldn't be farther from the truth!
Must Have It: Wooden/Bamboo Spoons and Turners
These things are the best. Break up ground beef, use the turner to help  you scrape up all the browned bits from meat when making a pan sauce, and just use for regular ol' stirring.
Must Have It: Vegetable Peeler
I don't care how awesome you are with that paring knife, don't tell me you aren't even quicker with a peeler! I have two because one is inevitably always dirty.
Think About It: Garlic Press
I'll be honest. I don't use mine often, because most of the time I need chopped garlic, I already have my knife out chopping other things. But, this is good when you need a finer mince than you can (easily) get on a knife–I like it for things like tzatziki and meatballs.
Think About It: Cookie Scoops (Various Sizes)

These are great for cookies, obviously, but also nice for getting similarly sized meatballs, the same amount of frosting on each cupcake, etc.
SMALL APPLIANCES
Must Have It: KitchenAid Mixer
Even as a person who doesn't bake often, I love my KA. And I love it even more during the holidays when I am doing a boatload of baking.

Must Have It:Food Processor (9+ Cups)

Food Processor (9+ cups)
I don't know how I lived without this thing. I use it to make pesto all the time. It's great for making salsas and I use it bi-monthly for making homemade granola bars. Before I had an immersion blender, it was my go to for pureeing soups.
Think About It: Mini-Prep Processor

Perfect for chopping an onion when you don't feel like using a knife, for small batches of pesto, and emulsifying dressings. This thing gets used a LOT at my house. If you don't cook just for two, it may not be as useful to you.
Think About It: Hand Mixer
For me, this is a must have, but I am conscious of the fact that not everyone lives in an apartment with a tiny kitchen that lacks counter and storage space (and therefore uses their KA more than I do). But, I think you should get one of these. Because you aren't going to want to get the KitchenAid out ALL the time if it's not on your counter. At around 30 bucks, this thing has lasted me about 8 years and who knows how many batches of muffins.
Think About It:Stick/Immersion Blender


This is great for smoothies and pureeing soups but if you don't make much of either, skip it. It's so much easier than trying to transfer a hot pot of soup to a food processor!

Skip It: Any kind of unitasker.



BOWLS/MISC.

Must Have It: Mesh Strainers
(in a couple different sizes)
Use them to drain pasta, rinse rice, push jam through them to make it seedless, sift flour and leavening agents together and strain your sauces. Another thing I use all.the.time.
Must Have It: Stainless Steel Mixing Bowls
These are nonreactive so in addition to being good for mixing (duh), they are also great for marinating. Stick one over some simmering water to act as a double boiler, too.
Must Have It: Cutting Boards
Get a few of these. Melamine ones are great for chopping meat, because you can throw them in the dishwasher. Keep your wooden/bamboo boards for vegetables. I actually plan on getting a nice countertop Boos board when I have a bigger kitchen.
Think About It: Salad Spinner
I was hesitant about registering for one of these things but my stepmom convinced me. I must say, I love it. In addition to drying lettuce so much easier, it's also great for herbs and other greens. As a  bonus, you can store whatever you spin in there and I have found it lasts longer. We love having washed, chopped salad greens ready to pack in the morning for lunches.