about
An Introduction
Hi, and welcome to my little corner of the world wide interwebs! I'm Elly, I'm  32, and I live in Chicago.  Since 2006, I've been married to my amazing husband and best friend, Tom (Yeah, I know, everyone says that, right? But it's true. Tom and I were great friends for 3.5 years before dating).  We  welcomed our gorgeous baby boy, Zachary, into the world on April 2, 2010.  We decided to make My Big Fat Greek Family sweat it out for a few years. And now, of course, they're  putting the pressure on for #2. Zachary became a big brother when our youngest, Ian, was born in March 2013.  Not only are our boys amazingly wonderful and insanely cute, they are also good eaters. VORACIOUS eaters. I fear for the high school years.
I'm somewhere between a first and second generation Greek (my mom was born in Greece and my dad was the first generation to be born in the States). I do like to cook Greek food (hence the OPA! in my blog title), but it comprises just a small fraction of our meals, as I love experimenting with other foods, ethnicities and taste combinations. But, just for kicks, here's a picture of me enjoying a piece of my grandma's (yiayia's) plasto, which is a savory greens pie. Mmm.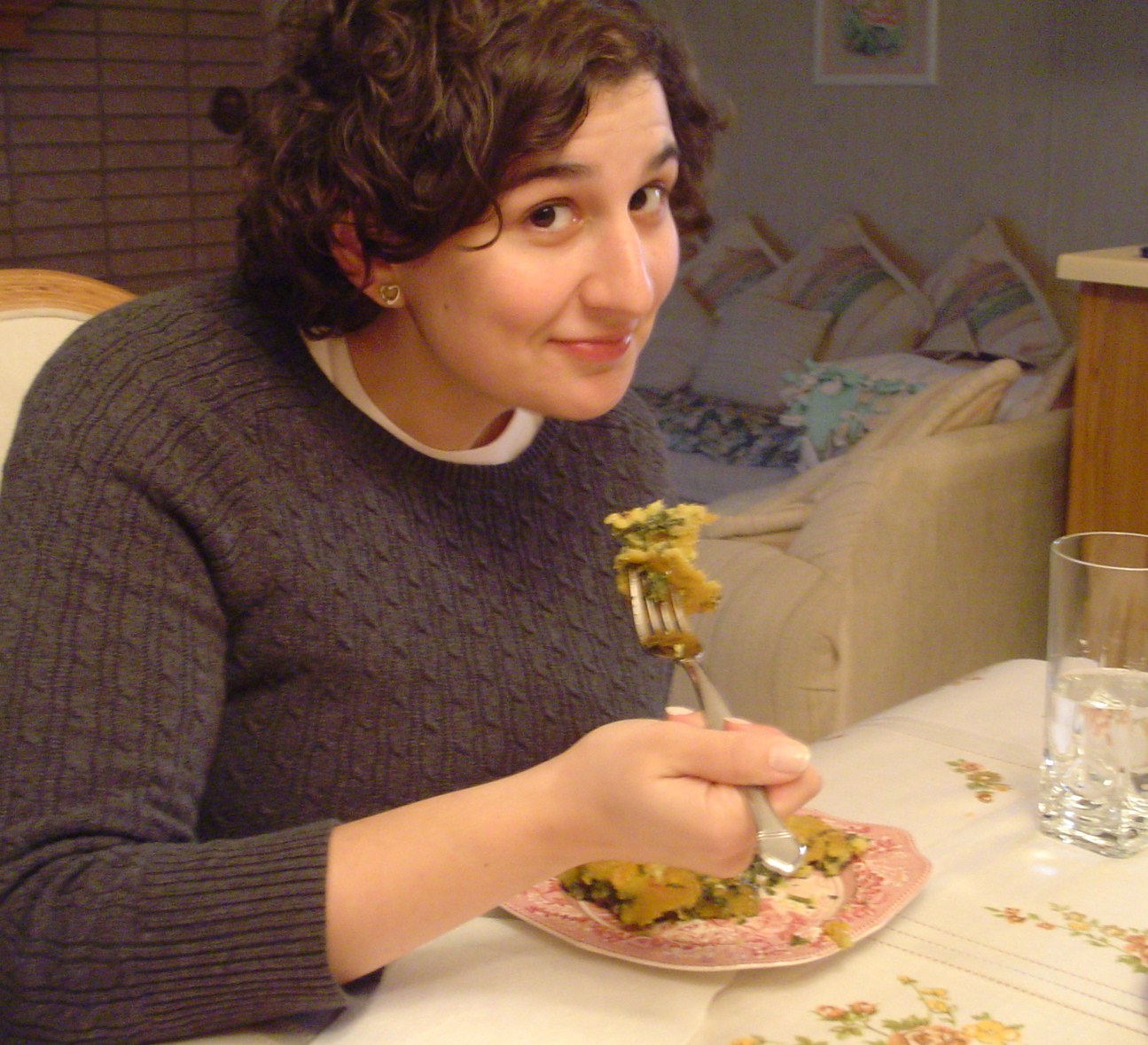 nom nom nom
I started this blog as a way to cure some boredom once I finished grad school and had a lot of time on my hands. It was a way for me to document my recipes (if you know any Greeks, you know they don't use recipes so trying to figure out how your grandma makes something over the phone is pretty near impossible). It has now helped me do that, sharpen my photographing skills a little bit (I'm still learning), and introduce me to a world of other amazing bloggers.
Some other things I enjoy include music (I'm one of those old-schoolers who still purchases CDs), vodka tonics, filling up my DVR,  making lists, and learning things from my son (who is now a toddler, which means I should probably get working on his baby book).
After rereading this about section, I've decided I am also a big fan of parenthetical asides (obviously).
Connect with Me
Email: ellysaysopa [at] gmail [dot] com
Press/As Seen On:
Click here for a list of websites that have featured elly says opa! 
Product Testing:
I am willing to sample and blog about products, provided that the product is something I'm interested in and would eat (or use) myself. As you can see from my blog, I am all for natural ingredients and am not into artificial ingredients, partially hydrogenated anything, and so on. If you're interested, contact me at the email above! My new policy states that a reader should be given the chance to win the same product I am reviewing, so please only contact me if you are willing to provide a second item for a reader.

Advertising and Link Exchanges:
I am not currently interested in new advertising on my blog, nor do I participate in link exchanges.

Usage:
This site carries a Creative Commons License.  All texts and images ©2006-2014 by Elly Says Opa! Do not use any of my photos without permission. If you use/link any content from my blog, please attribute them to elly says opa! and link to the original post.
elly says opa! is licensed under a Creative Commons Attribution-Noncommercial-Share Alike 3.0 United States License.