Welcome to the new Elly Says Opa!
06
You guuuuuuuuys! It's here! It's here! It's here!
The redesign I've been hoping for/planning/alluding to/finally working on is done! What do you think?
I'm not going to take you through a million screenshots (just like…six), because I want you to explore everything for yourself. I worked with Ryan from Second Street Creative and one of the first things (and probably the most frequent thing) I told him was that I wanted a user-friendly site. The recipes here are mostly simple and doable and I wanted a site with that same focus. Clean, streamlined, easy to use.
Of course the first thing you'll notice is that the format is a little different. The orange/green color scheme I've been working with since day one – 10 years ago for those of you keeping track (!) – is still in tact, but things are brighter, whiter, and a little more focused on the food photos. Rather than scrolling through 10 or so full posts on every page, many of which you may not even be interested in, you can now take a quick glance at the most recent 11 posts and decide if you want to click through.
On the sidebar, I have our weekly menu (something that has been on the blog for a while, but that wasn't really highlighted before) as well as the most popular posts, which will change occasionally (but probably not that jalapeño popper chicken. I think that one's in it for the long haul).
Bolded text on the weekly menu will link you to that particular recipe from this blog.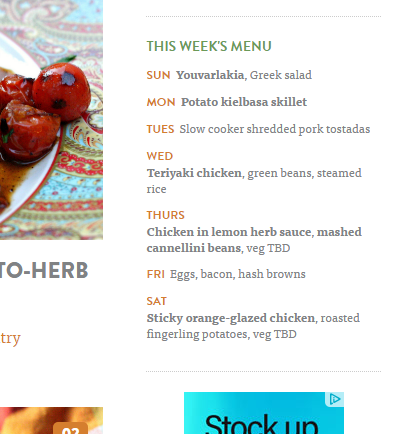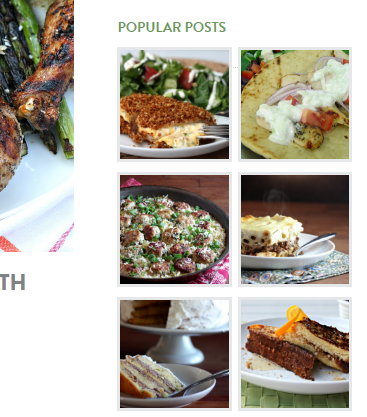 When you open a full recipe post, you'll notice a few things different with the recipe. For one thing, the recipes are actually organized  by ingredients/directions. I've also added helpful info like prep/cook time and servings.
There is still a print feature, but it's at the bottom.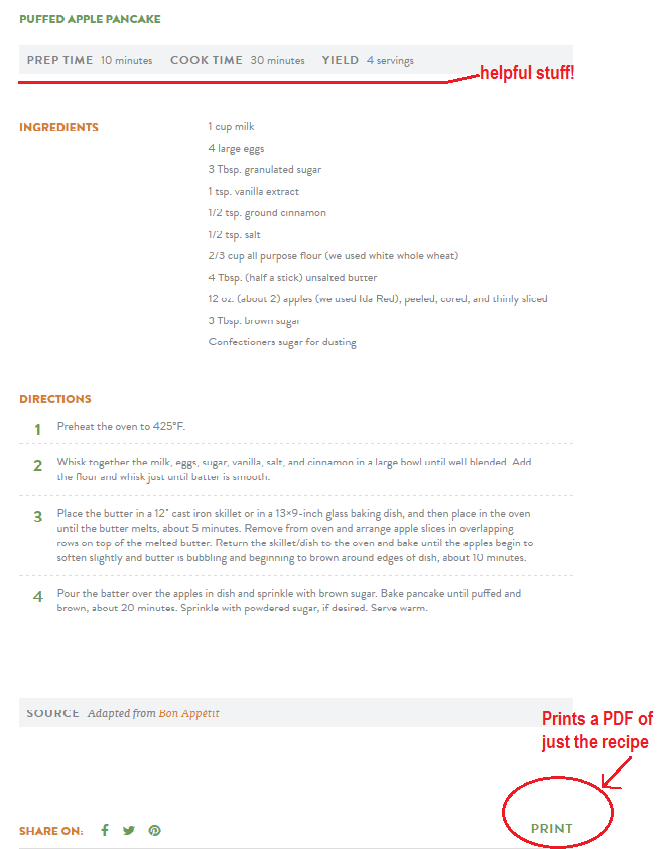 Not all past posts are in this format. I went ahead and changed the most popular ones, and will continue to go through and do that, but it could take a while. All posts moving forward, though, will have this much better format.
And now, the best part. A RECIPE INDEX. A real-deal one that updates automatically and isn't just an atrociously long list of poorly formated (and rarely  updated) links. Uh, not that I know anything about that. Not only is there a visual search by category (though again, some posts may not have preview pics yet, I'm working on it!) but you can even refine your results by a few more pervasive categories. Are you looking for a recipe that not only includes chicken but is also healthy and dairy free? You can find it super quickly now. You can also type in the search bar just as you always could.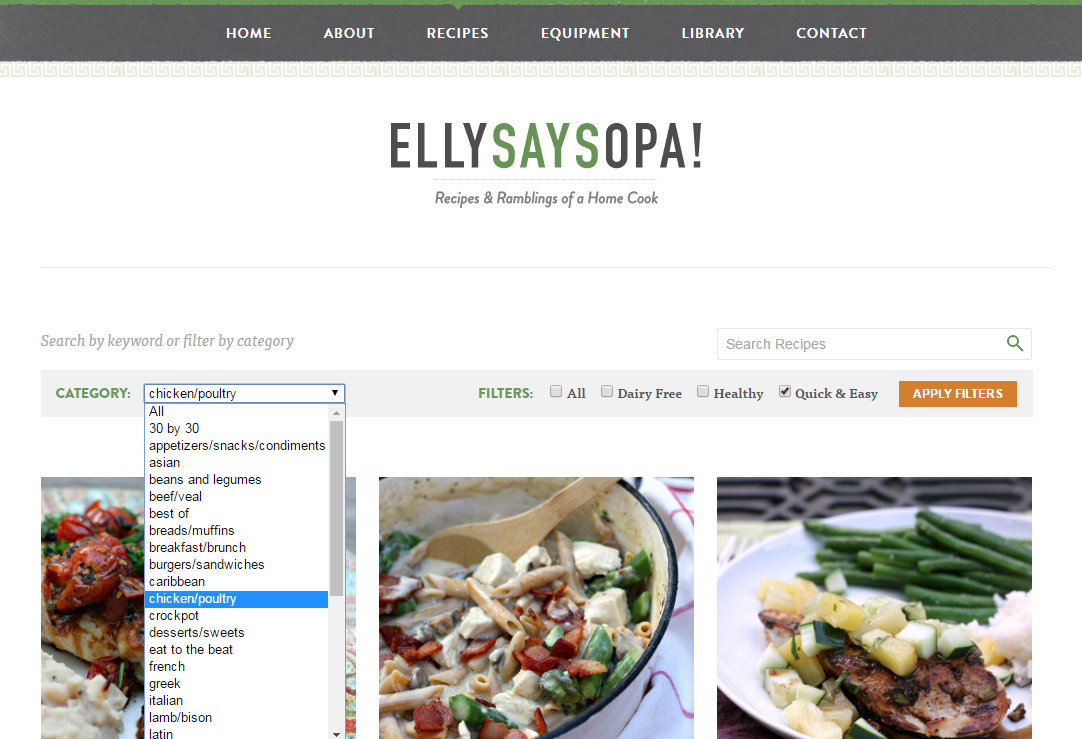 The Equipment page has also been redone. If you've visited the old one you'll notice a lot of the same products – which means I REALLY love those things (remember again, this blog is a decade old) as well as several newer ones that never made it to that page before because of laziness. 🙂 They are also easy to sort by category if you just click on the category links at the top, and the buy links will take you straight to Amazon where you can have your shiny new kitchen gadget delivered to  your door in two days with Prime.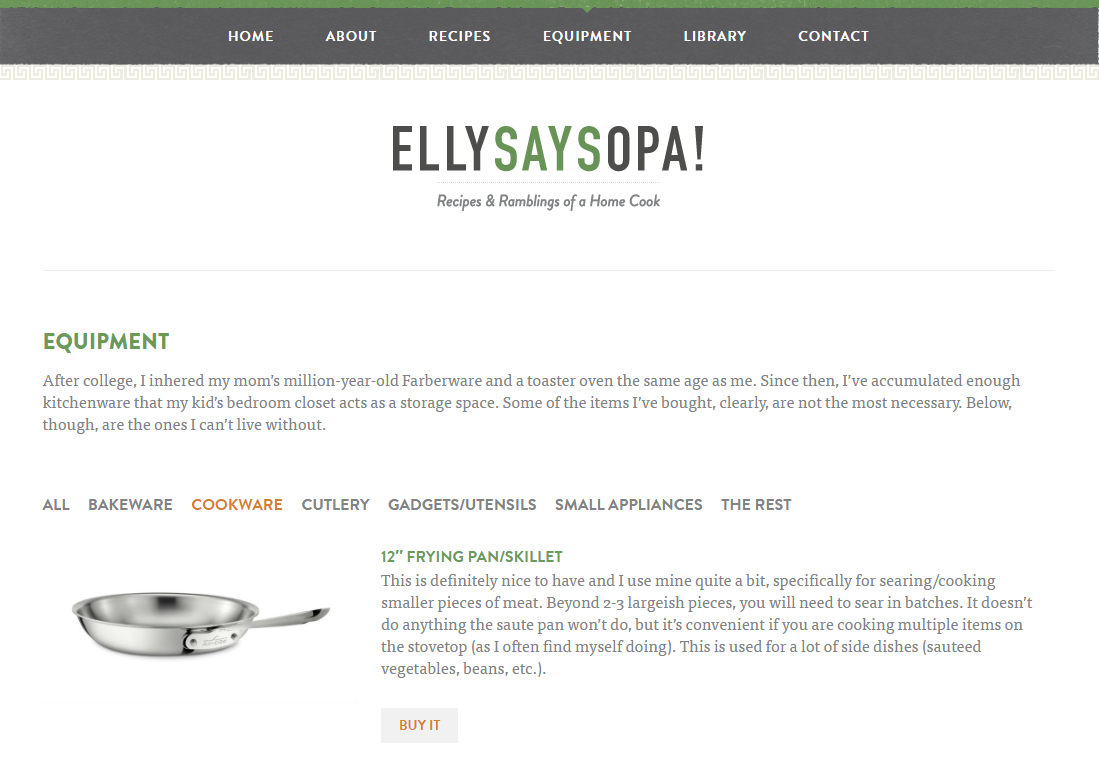 The Library page has pictures of my favorite cookbooks/food writing books that will also link to their respective Amazon sites should you choose to buy them. I've also added a list of my favorite blogs (and there is, as there has been for a while, a link to my Goodreads profile because I read a lot of books that aren't about food, too.)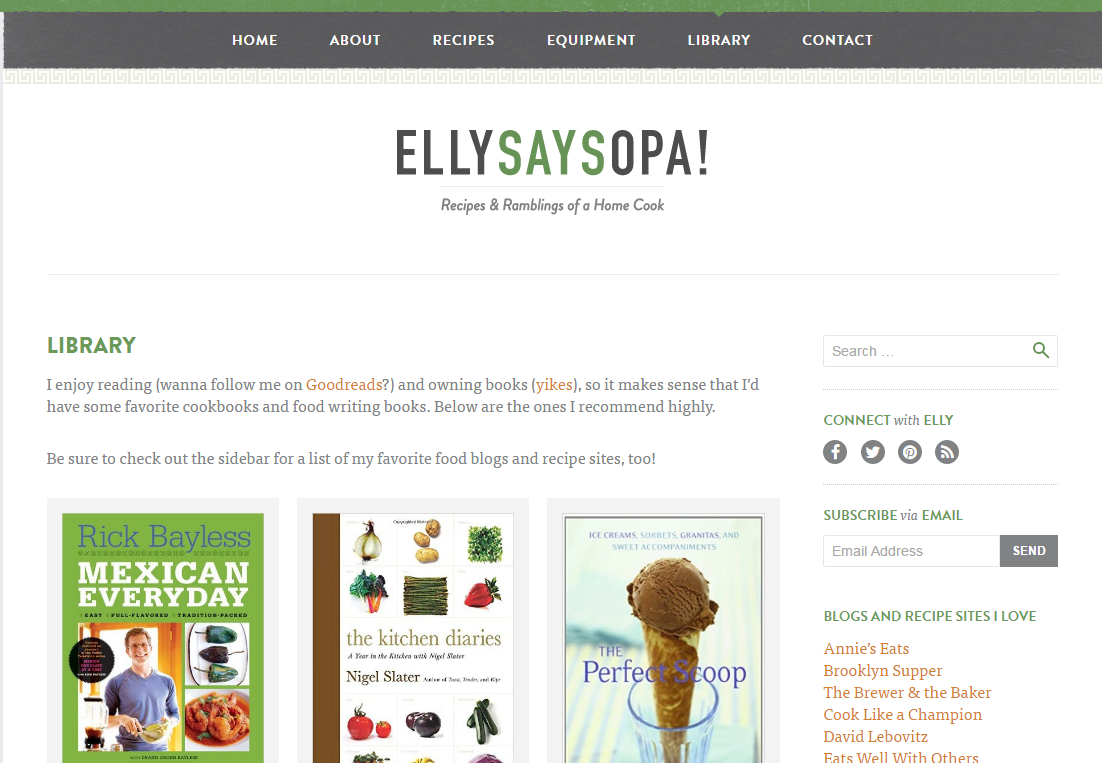 The About page has been updated (full disclosure: the picture is already a year old at this point and I never did get my husband to take an appropriate blog picture of me, like me cooking, soooo) and a contact page has been added so you can more easily send me emails.
I really hope you love the new site. I welcome any and all feedback. Happy cooking!
Welcome to the new Elly Says Opa!