Asian-marinated flank steak
0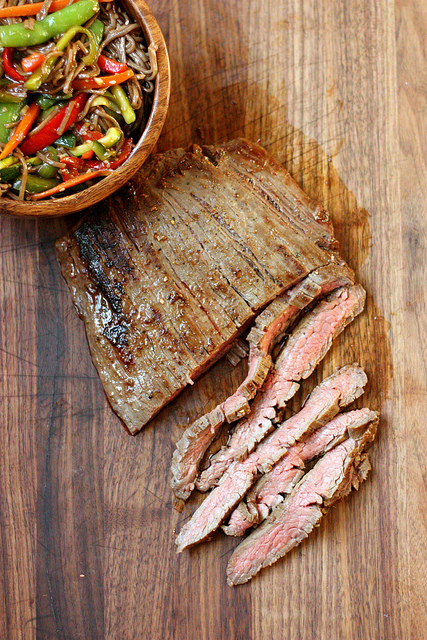 My kids, as part of their lifelong goals to be extremely expensive investments, are in love with steak and lamb. My eldest, who will eat pretty much anything without complaint as long as it falls in the "edible" category, has started complaining about how "we eat chicken alllllll.the.time, moooooooom" and he is over it. Sorry, we're not switching over to 7 days of red meat per week any time soon, kid.
Now that we tend to buy grass fed/organic ground beef, the price difference between it and flank steak is…not much. Which is kind of sad, considering flank steak used to be one of those "deals" back in the day. So, I do try to make it occasionally and then watch in horror as my children basically eat their weight in it.
This is a simple marinade for a steak with Asian flavors that pairs nicely with anything from vegetable soba noodles (which is what we had) to sesame snap peas, rice, or lo mein.  You can do a quick marinade or a longer one (but I wouldn't recommend doing it for an entire day, as the soy sauce can make this overtly salty) and have dinner on the table in no time. (And with my kids, dinner will also be DONE in no time.)
Asian-marinated flank steak
5 minutes + marinating time
10 minutes
4 servings
Ingredients
1/3 cup lite soy sauce
2 Tbsp. rice wine vinegar
2 Tbsp. honey
1 Tbsp. chili garlic paste like Sambal Oelek
1 Tbsp. freshly peeled and grated ginger root
1 Tbsp. minced or grated garlic (about 3 cloves)
2 tsp. toasted sesame oil
1 flank steak (about 1-1.25 lb.)
Directions
Whisk together all the ingredients but the flank steak. Pour over the steak in a baking dish or resealable bag. Marinate for at least 30 minutes, up to several hours (personally I wouldn't marinate overnight, as I feel the soy sauce might make it a little too salty after a while).
Season the steak with a little salt and plenty of freshly ground pepper. Cook as desired.