Labor Day Giveaway: Sucré Chocolate {closed}
139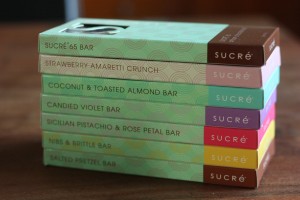 Woohoo! Chocolate!
Want to win some chocolate? Great! Here's your chance. The lovely people at Sucré are offering up a pack of all 7 of their chocolate bars to one very lucky reader. Sucré, located in New Orleans, makes fabulous chocolate, macarons, and even king cake.
Unfortunately for me but fortunately for Tom, I could only snag a bite of these here and there. Ian seems to be getting over his dairy sensitivity slowly, but I don't want to overdo it. Which is really hard when there is delicious chocolate involved, by the way. To no one's surprise, each bar was delicious but I think my favorites were probably the pistachio & rose and the nibs & brittle.
But, you be the judge.
Enter to win a Sucré  7-bar chocolate collection:
To enter, just leave a comment on this post telling me what your perfect candy bar is (it can already exist, or be a combination you make up)
One entry per person. Keep in mind that comments are moderated, so if you don't see your comment posted immediately, do not post another.
Giveaway closes on Sunday, September 8th at 11:59 p.m. CST. The winner will be notified via email.
Disclaimer: Sucre is sponsoring this giveaway. They provided me with a package of chocolate bars. Any opinions expressed are my own.
Labor Day Giveaway: Sucré Chocolate {closed}