Giveaway: Grow Your Own Mushrooms
76
If you've followed this blog for any amount of time at all,  you'd have realized that I'm a big, big mushroom fan. Even when I was little and would turn my nose up at nearly every ingredient, I'd always eat all my mushrooms. So, when Nikhil, the co-founder of  Back to the Roots asked me if I wanted to try my hand at growing my own mushrooms, and then offer a kit to one of my readers, I quickly agreed.
Back to the Roots recently launched its Easy to Grow Mushroom Garden, which  lets anyone grow up to 1 .5 lbs of gourmet oyster mushrooms in as little as 10 days…right out of the little brown box. And, the cooler part is that the soil is composed of recycled coffee grounds, so it's sustainable, too.
Growing the mushrooms is so fun to watch. You'll have to excuse the crappy photo. I was just taking a "progress" photo to post to Twitter one day, intending to take a better one later after the mushrooms had fully grown in, buuuut I dropped the ball on that one.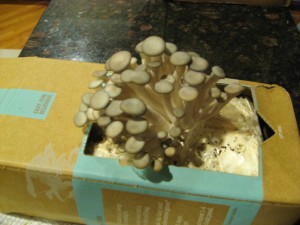 Even if you don't win the giveaway, Back to the Roots has offered my readers a 10% discount. Just use the code mushrooms4me10 when you buy them.
PLUS, if you post a picture of your grown kit in hand on the Back to the Roots Facebook page, they will donate a kit and sustainability curriculum to the school of your choice. If you didn't already know, I work in education, so I'm a big fan of this initiative.
To enter the giveaway, just tell me what your favorite thing is to eat with mushrooms — and feel free to provide a link, if you have one, so I can make it too :-). I will pick a winner on Wednesday, August 31st. 
 [Disclaimer: Back to the Roots provided me with a mushroom kit to test myself. I was not compensated in any other way. Back to the Roots will send the winner of this giveaway their kit directly.]
Giveaway: Grow Your Own Mushrooms