Um, here is another sandwich with more potato chips.  Ha! I swear, I do make more than sandwiches these days (and even occasionally make real sides for them when I do make sandwiches. Promise.), but I've been all about the easy meals lately.   When  you only have so much time with your son between getting home from work and him going to bed, you definitely try to make really quick and easy dinners to maximize your time with the kiddo.  Speaking of the kiddo, he is very helpful in the kitchen.   Here's  my little sous chef hard at work: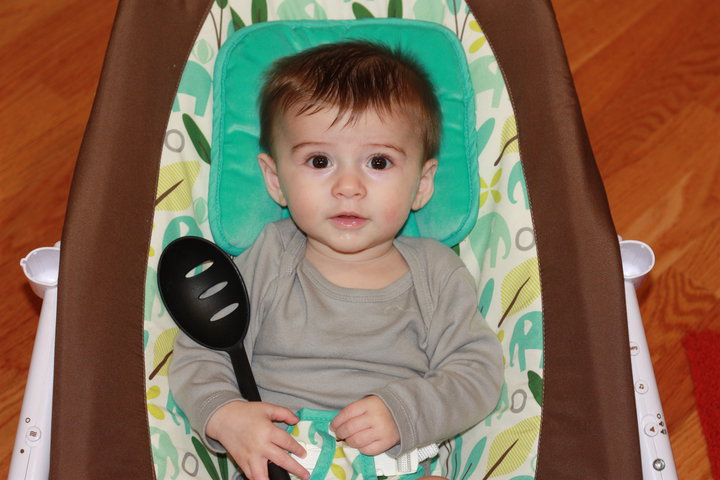 Rather than make yet another burger, I decided to make a vegetable sandwich.  There were portobello mushrooms on sale at my grocery store, so I decided they would make a nice base for the sandwich, since they are nice and meaty.  Not to mention, delicious, of course.  I had some extra pesto, so those made their way onto these sandwiches, too, as did some goat cheese.  I made these in my grill pan, which, if I'm being honest, I almost never use.   I used another pan with a tea kettle on top of it to press down on the sandwiches as they grilled up.
I did originally want to put these on a slightly "nicer" bread option, like foccacia or ciabatta, but at the end of the (work) day, I just didn't have the time–or the energy–to run to the store.  So, we went for the slightly less classy whole wheat English muffins. 🙂 That said, they were actually the perfect size for the portobellos, so it worked out quite well.
Portobello Panini
Serves 2
Printer Friendly
1 small red bell pepper (or 1 already-roasted red pepper)
2-4 portobello mushroom caps (depending on size)
olive oil
balsamic vinegar
1/2 cup baby spinach
2 oz. goat cheese
2 Tbsp. pesto
2 English muffins, rolls, or bread of your choice
Throw the red pepper directly onto a gas burner/grill and char on all sides (you can use the broiler if you don't have a gas stove).  Set in a bowl covered in a towel or plastic wrap.  Once cooled, rub the peel off with a towel.  Remove the stem and seeds and cut into  two equal pieces.
Brush the portobello caps with olive oil and balsamic vinegar, and season with salt and pepper.  Grill for about 3-4 minutes per side.
Assemble the sandwiches by spreading goat cheese on the bottom half of the English muffin and then topping with spinach, red pepper, and portobello.  Spoon pesto onto the top later of the English muffin.
Grill or press the sandwich in a panini press/Foreman grill/in a skillet lightly greased with a little olive oil (place a pan with a can or other heavy object on top of a skillet, if you don't have a press).
Portobello Panini