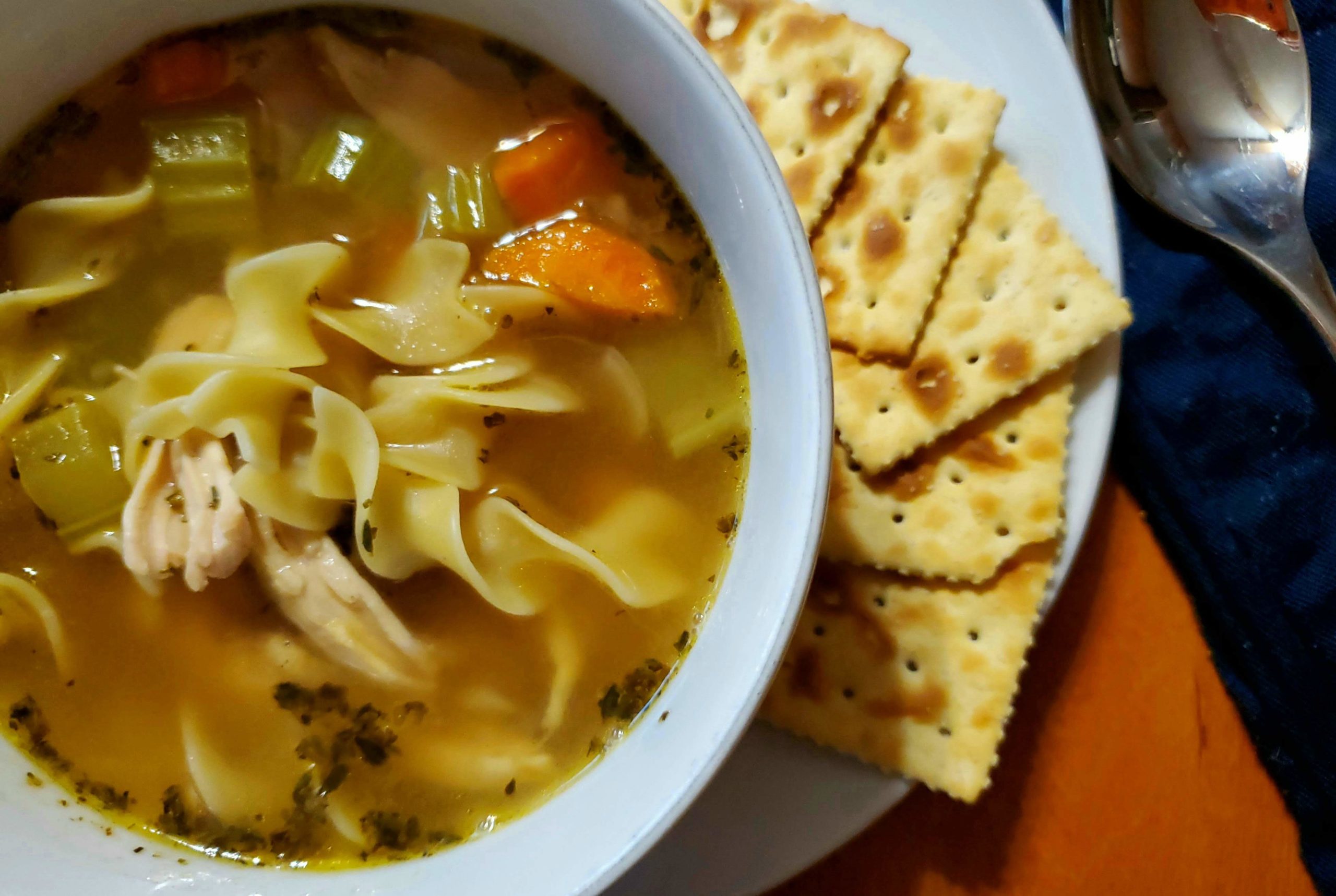 As someone who really enjoys cooking, I would be hard-pressed to think of my favorite dish to make. However, I would say my favorite type of thing to cook is soup. Soup is so diverse. You've got cream-based, tomato-based, broth-based. You've got potatoes, noodles, rice, beans. Chicken, beef, veggie. You've got tons of herbs with which to play around. As an added bonus, soup is a very forgiving dish. You can constantly add to and play around with the flavors as it simmers, to suit your tastes. It's pretty hard to mess up soup after you've gotten the basic techniques down.
With that said, I sometimes play around with soup so much that I forget about the good, old-fashioned varieties, like chicken noodle. There is something so comforting and familiar about chicken noodle soup. And on a day like today–high 50s, raining, and me feeling congested with the sniffles–there really is no better food.
Chicken Noodle Soup
2 Tbsp. butter
1 large onion, diced
1.5 cups carrots, sliced
1.5 cups celery, sliced
2 cloves garlic, minced
12 cups homemade or good quality chicken broth or stock
1 bay leaf
1/2 (heaping) tsp. ground marjoram
1 tsp. thyme
1 Tbsp. dried parsley
4 cups cooked chicken, chopped or shredded (always prefer it roasted, myself)
5 oz. (about 1.5 cups) uncooked egg noodles
fresh ground pepper, to taste
In a large stockpot or dutch oven, melt butter over medium heat. Add onions and cook for about 3 minutes before adding the celery and carrots. Continue cooking a few more minutes before adding the garlic. Stir until fragrant.
Add the chicken, broth, bay leaf, marjoram, thyme, parsley and ground pepper to taste. Bring to a boil and then reduce. Simmer lightly for 30 minutes.
Add the noodles* and simmer until cooked, about 8 minutes.
*Note: The noodles will continue to absorb the liquid as leftover sit in the pot/fridge. If you want to prevent your soup from thickening and becoming too chunky, you can reduce the amount of broth slightly and cook the noodles in a separate pot, combining with the soup in your bowl as you are about to eat.
Nutritional Information per serving (for 8 servings): Calories: 168 / Fat: 4.6g / Carbs: 17.7g / Fiber: 2g / Protein: 13.9
Chicken Noodle Soup