Thanksgiving in October
0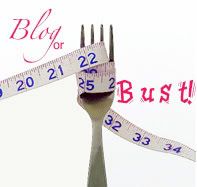 As I mentioned a while back, while Tom and I were in Seattle, we came across a pasta store in Pike's Place Market called Pappardelle. One of the types of pasta I bought was autumn harvest orzo–a blend of pumpkin, sage & chestnut orzo. If that doesn't say Fall, then I don't know what does.
I decided to use the first bit of that orzo tonight for dinner with some chicken thighs. This was almost like a mock turkey with stuffing…you know, with chicken as turkey and orzo as bread 🙂 The prep and clean up was a lot easier too. This is a one-pot meal.
This orzo was absolutely amazing. With the combination of the chicken, mushrooms and orzo, it was like Thanksgiving on a plate. And for that reason (and because this is significanly lower cal than the typical Thanksgiving on a plate), I am submitting this dish to The Clumsy Cook, who is hosting Blog or Bust #3: a Fall dish that won't make you bust the scale 🙂
Braised Chicken Thighs with Autumn Harves Orzo, Mushrooms & Walnuts
Serves 2-4
1 Tbsp. olive oil
1/2 onion, diced
4 skinless chicken thighs
4 oz. mushrooms, sliced
1 sprig thyme (or a pinch dried)
1 clove garlic, minced
1/2 cup white wine or sherry
1 2/3 cup chicken broth
4 oz. Pappardelle's autumn harvest risotto
1 oz. truffle cheese (optional, but cheese is always encouraged in my book. Parmesan/romano/goat cheese would undoubtedly be great, too)
1 oz. walnuts, toasted and chopped
salt and pepper
In a large (and deep) skillet or saute pan, heat the olive oil. Add the onion and cook until translucent. Sprinkle chicken thighs with salt and pepper and add to the skillet. Brown, about 2 minutes per side. Remove from the pan.
Add mushrooms and thyme to the skillet and cook for about 2 minutes before adding garlic. Stir until fragrant, about 30 seconds. Add wine. Cook off about half the liquid.
Add chicken broth and chicken thighs. Bring to a boil and then reduce heat, simmering  until chicken is just slightly undercooked.
Add orzo to the pan and cook until done and liquid has been absorbed. Stir in the cheese and the toasted walnuts.
Thanksgiving in October